When Shenae Outerbridge has the opportunity to explore in her leisure time, she enjoys relaxing and soaking in the warm, sunny weather in the Caribbean.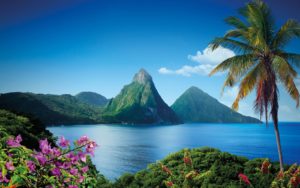 Located in the Caribbean, the British island of St. Lucia lies right between the Northern Atlantic Ocean and the Caribbean sea. With tourism as the main player in its economy, there is plenty to offer for visitors. Between the stunning natural landscapes, former military sites and sulfur springs, visitors will find that they are never bored. If you are considering making a trip to St. Lucia and are looking for some entertaining activities, Shenae Outerbridge suggests a few things to add to the bucket list:
Pigeon Island Nature Reserve
This island is a paradise and what better way to explore it than getting up close with some of the nature. Aside from the stunning natural landscapes, there are fantastic views of Martinique and also some of the island's most historic buildings.
The Sulfur Springs
The hot springs here are one of the highlights of visiting the island. Don't arrive without something to swim in as the hot water runs right through a pool that is perfect for taking a dip. The prices for the springs vary as you can do different activities like swim or merely take an educational tour.
Take a Forest Hike
St. Lucia is full of gorgeous forests that make the perfect setting for hiking. There are a few official hiking trails amongst them that have been laid out by the Ministry of Agriculture Forestry and Fisheries. Just make sure to check on their site to see which of these trails they are involved with.
Climb The Gros Piton
It's a bit of a challenge but most people are able to make the climb. It takes about two hours of moderate to strenuous hiking which begins at  a 600 foot elevation. It will also take an additional hour and a half to climb back down and guides will be needed.
For more information about exploring and other unique adventure destinations, check out Shenae Outerbridge on Quora.