Shenae Outerbridge has had the opportunity to explore many beautiful places around the world both for vacation as well as for her professional career. One of her favorite places to visit of all time is the Dominican Republic.
While it may be located in the Caribbean, the Dominican Republic is a bit different than all of the other beach heavy getaway islands. Even though the waters are pristine and the weather is fine, this island has a bit more depth to it in the ways of culture and community. What's even better than its culture is its drastically different array of landscapes all waiting to be explored. If you have the chance to visit the Dominican Republic, here are the top things to see and do.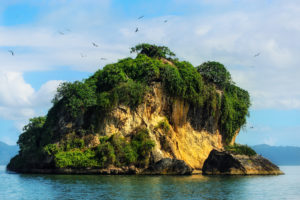 Established in the 1970s, this remote park is one of the most beautiful places to visit on the island. Here is where you can find karst cliffs, mangroves, caverns and limestone coastline. There are multiple climates inside the park which lend to various animal and plant species. Visitors also come to get a glimpse of the petro glyphs which can be found inside some of the caves.
National Palace
The home of the Executive Branch of government, the National Palace is an important building on the island nation. It's most well known for its architecture, created by an Italian designer, Guido D'Alessandro.
Samana Bay
This is the place to go if you want to see some of the island's nature at its best. This protected area is home to pelicans, colorful fish, whales, mangroves and caves featuring pictographs. If you visit Samana Bay in the winter, you have a good chance of seeing calving whales too.
Located in the cultural district is this museum, one of the most important cultural buildings that was erected  during the colonial era of Hispaniola. It dates all the way back to the 16th century when it was used as an important meeting place for the Spanish colonies.
To learn about other destinations frequented by Shenae Outerbridge, check out her exploring page: http://shenaeouterbridge.com/exploring/.